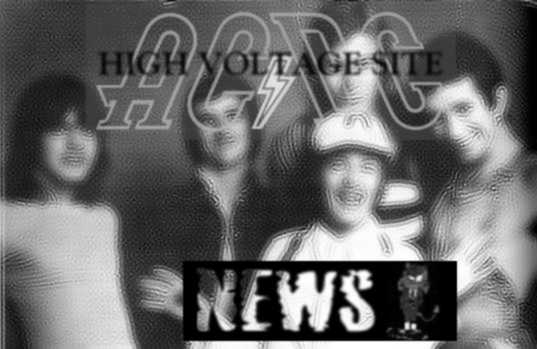 1999 ISSUES
TO BON DECEMBER 19
AC/DC's first singer Dave Evans is going to appear with the Australian AC/DC cover band THUNDERSTRUCK on a special event on feb 19th 2000( the 20th anniversary of Bon Scott's tragic death).

DATE: FEB 19TH 2000, MELBOURNE, AUSTRALIA
VENUE: TO BE DETERMINED.
SOURCE: rIFF RAFF (THANKS)
ALBUM DATE RELEASE December 17
According to EastWest France, the new album is currently scheduled to be released on February 18th in Europe. With US releases typically following on the next Tuesday, release date in America should be February 22nd, 2000.
source: electric shock (thanks)

TITLES OF THE 17 SONGS RECORDED NOVEMBER 24
THESE ARE THE TITLES:
"Come & Get it"
"Let it go"
"Stiff upper lip"
"All screwed up"
"Damned"
"R.I.P. it up"
"Can't stand still"
"House of Jazz"
"You can't stop R'N'R"
"Melt down"
"Can't hold me back"
"Rave on"
"Whistle blower"
"New satellite blues"
"Safe in New-York"
"The cock crows"
"Cyber"
THE BAND DOESN'T KNOW WHICH SONGS ARE GOING TO BE INCLUDED IN THE NEW ALBUM YET.CONCERNING THE ALBUM TITLE, SOME RUMOURS SAY THAT SMOKIN' WILL BE THE NAME.

Source : Bedlam in Belgium
News from Belgium concerning titles of 5 songs recorded.
COME & GET IT
R.I.P IT UP
HOUSE OF JAZZ
YOU CAN'T STOP R'N'R
RAVE ON
Check the Bedlam in Belgium website (new address) if you want more information.


NEW ALBUM OCTOBER 30
THE ALBUM
Malcolm: We have 18 songs among which there are 3 classics. The new album will certainly contain 12 songs, the other ones should be released as bonus tracks on maxi singles or should never be released. Only the best ones will be released.

A TITLE
Malcolm:No title or picture cover, we sort out these details in the last few days.
Geoff Banks (Malcolm and Angus rodie): There are many great songs in this album, for me AC/DC is the greatest band in the world.

RECORDING
Brian: I sing with an HF microphone and without hearphones to feel the music better.
Angus: Brian's voice is very powerful and solid.

RUMORS
What about the rumor concerning a tumor ?
Brian: False, the only operation during the last years was a filling on a teeth.
DEMOS
Malcolm: The songs were written in Holland, in Australia and in my homestudio in London. Angus played drums and I tried new riffs on guitar, Angus is a great drummer.

RELEASE DATE
Malcolm: The album will be ready on November but we will release it on January or Febuary 2000 because on November / December 1999, the TVs, the radios will only talk about the new century, and it's hard to promote and album during this period.
The record company wanted to release the new album before Christmass but the band prefer to wait a little more THE OFFICIAL RELEASE DATE IS JANUARY 15.
TEXT FROM

RISING POWER

(Thanks)

ALL THE RUMOURS ARE FALSE OCTOBER 3
The latest issue of the French magazine "HARD ROCK" reports that all the rumours on the internet are false. The director of the magazine "Philippe Lageat" recently met the band in Vancouver, Canada, but he doesn't want to say anything about the new album right now.
Everything will be revealed in next months issue of "HARD ROCK".
Thanks Cyril, RISING POWER
NO NEW ALBUM UNTIL NEXT YEAR October 3
AC/DC's camp is keeping the usual tight-lid on the details surrounding the band's forthcoming album, their first since 1995's Ballbreaker, but this much we know: Although slated for a late November release on eastwest/Elektra, the album will likely not see stores until early 2000, according to a spokesperson for the band at Elektra. The CD remains untitled at press time.